Lead Guitar Lessons - Play Guitar Solos That Sound Amazing
If you feel frustrated when it comes time for you to play a guitar solo because your guitar solos always sound the same, you have a hard time turning the scales that you know into something that sounds musical and/or you want to learn to play lead guitar but you are not sure what you should do first.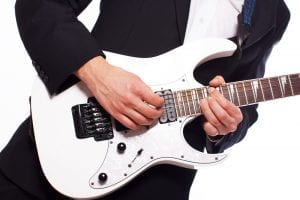 There is a way to get past your frustrations . The solution is to find lead guitar lessons that can help you learn to solo on guitar, help you build your confidence and give your guitar playing the shot in the arm you have been looking for.

Finding new guitar scales to learn is great but what do you do with them after that? That is one of the questions that students ask all of the time. How do you take scales, modes, arpeggios and turn them into amazing solos that leave you grinning from ear to ear?
I Understand Your Frustration
There was a time when I spent years spinning my wheels when it came to soloing and trying to write solos. I would play and play and every guitar solo sounded the same. Improvising became harder to do because again, everything sounded the same. The start, middle and ending of solos were so similar that any one of them could have been put into another song and there would not have been that much of a difference. Does this sound familiar?
The good news is that If this has been one of your frustrations with your playing, it does not have to be any longer. It can be fixed and taking lead guitar lessons at Manchester NH Guitar Lessons can help you fix that problem for good. You will learn how to make your lead guitar playing sound inspired and fresh, every single time that you play. You will learn how to play guitar solos that make your guitar sing. You will love the sound that you hear coming out of your guitar and won't be able to wipe the smile off of your face.
If You Have Learned A Bunch Of Scales But Can Not Do Anything With Them
You are not alone here. A lot of guitar players think that learning a new scale will be the answer to their problem. If you have done this before you have seen, very quickly that learning guitar scales wasn't the answer at all. As a matter of fact, you have probable noticed that the new scale only added to the problem. You have increased your the amount of scales that you know but your guitar solos still sounds the same. Learning new scales can be fun and exciting but if your goal is to make solos that you love, you will have to do more than just learn a new scale every time you feel stuck in your playing.
What You Can Expect From Your Lead Guitar Lessons
Clear, detailed teaching which helps you understand what makes a guitar solo great
Immediate answers to your questions, no more wondering if you are on the right track
Learn how to improve the skills that you already have, you do not have to start from the very beginning
This Is Exactly What I Need, What Do I Do Next
What you need to do next is click on the orange button below that says "Continue" and tell me about what is stopping you from being the lead guitar player that you want to be.