Are Guitar TABS Impeding Your Progress?
Don't Waste Time with Shortcuts
by Eric Dieter

When I first discovered the late Alan Holdsworth, I was confused and amazed. What the heck is THAT scale? What are THOSE notes? Like any sensible guitarist, I went to the internet to find the TABs. I found a few, but never for the songs or the parts I was looking for. I did come across one a forum post somewhere that said "if you can't transcribe it on your own, you're not ready to play this solo." I was taken aback. I just wanted TABs, not a lecture.
It took a few years but that simple sentence I came across taught me far more than any TAB could have. I grew up on rock and metal, and TABs for this music are everywhere. So my ability to think and hear for myself didn't develop at the same rate that my hands and musical intellect did.
Put another way, TABs can make you lazy.
Music is A Language to Be Spoken
I don't think anyone would disagree that music is very much a language. Consider for a moment how the average human learns a language.  The early stages are really about hearing, then trying to reproduce the sound as closely as possible. Even if the sounds don't necessarily make sense together we must understand the sonic possibilities of the language by attempting to put them together.
I haven't met a single person that learned to read before they learned to speak and listen. After all, the written language is just a representation of sounds and ideas we wish to express. So when you immediately run to a TAB before you've completely internalized the music, you are dooming yourself to frustration and errors in expression and timing.
At this point, there's a smarty pants somewhere asking "But if reading isn't as good as listening, why are books so popular?" The simple answer is that most people don't read books for the sole purpose of memorizing their precise content then orating them with great inflection and articulation.
Auditory, Visual, Kinesthetic Processing Errors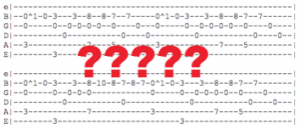 How Most Beginning and Intermediate Students Use TABs:
Imagine you have the TAB to your favorite guitar solo in front of you. Now imagine it's 100% correct (highly improbable). Now you start chipping away at the solo but aren't quite sure of the timing or phrasing. But you slog through it anyway because you're in a hurry to learn it. You plunk through it 11 different ways trying to make sense out of it, but you can't.  So you break down and actually listen to the solo. You think you  understand the timing of that confusing part, then you go back to your TAB… and… you forgot already.
Hopefully you do not need me to tell you this is not an effective way to practice. What makes it so ineffective? You are overtaxing your brain by taking too many indirect routes to auditory memorization.
Here's the simplest way I can put it: In the above scenario we've taken auditory information (a song), then visual information (TAB), and used kinesthetic application (left hand/right hand techniques) to play the song, then our auditory processor (ears) to determine if the previous information was correct. When it wasn't correct, we returned to the visual representation (TAB) of the auditory information (song).
If you need to re-read that previous sentence, it's probably because this approach is absurd!
Learn Faster by Playing Nothing
Let's talk about solution, because you're tired of the paradox of wasting time on shortcuts.
Step 1: Put the TAB and your instrument away.
Step 2: Listen to the song or solo on repeat. Don't analyze it, just absorb it. Imagine yourself playing it in a vague sort of way. Repeat for multiple days, or weeks depending on the song's complexity.
Step 3: Sing first few phrases. You can just scat whatever nonsense syllables work for you. The quality of your voice or ability to match pitches is irrelevant, but you should be able to vocalize the section. If you can't, repeat step one.
Step 4: If you know how, conduct along with the phrases. The goal is to understand when your phrases begin and end within musical time.  If you can't conduct, see step 5.  If you can conduct, move on to step 6.
Step 5: Type "basic conducting pattern" into a search bar. Spend a few minutes getting the movements down. Practice conducting along with your song.
Step 6: Continue to vocalize your phrases. Feel how the timing works and listen to the nuances of how the notes are attacked. If the notes get out of your vocal range, switch octaves if you are able.
Step 7: As you improve, test your timing and memory. Start singing along with your track, then leave the room and keep singing (or remove your headphones). Return to the room and see if your timing still lines up with the track.
Step 8: Without the track, sing the first phrase, then play it on your guitar. You may now consult your TAB for accuracy. Continue for each phrase until the solo sounds GOOD!
Conclusion
The temptation to run to a TAB is very high. TABS are everywhere! I get it, because I have no less than 4 TAB apps on my phone right now. I strongly urge you to start to do your own transcriptions. You will understand the song more intimately and you will certainly retain it longer!
If you have an app that plays the notes back, understand that this will not help you speak the language as well as emulating a real guitarist does. Consider a toddler that learns English by listening to Siri (Apple's A.I.) or Alexa (Amazon's A.I.) or any other computer program compared to a child that learns to speak by listening to other humans. If you don't want to sound like a computer, don't emulate one and don't practice like one.
Now go make music!
About the author:
Eric Dieter is a professional guitarist and guitar teacher in Lancaster, PA. He has appeared on dozens of international albums as a session guitar player and tours with the synth-pop band Hudson K and prog-rock band Hiding Scarlet. Eric has studied guitar at Millersville University and Berklee College of Music. Additionally, he holds a degree in psychology and a certification in hypnosis, making him uniquely qualified to train the minds of young musicians. Contact Eric if you are looking for guitar lessons in Lancaster, PA.