Why is Ear Training so Useful for Playing the Guitar and What to Do to Get Better at It? 
Benefits of ear training: 
Working on your ear training has a tonne of benefits when it comes to playing the guitar.
If you ever want to play with other people. Or want to figure out how to play a song by yourself. It will be helpful for you!
Wouldn't it be cool if you listen to a song, and be able to either play the melody straight away or play the chords along to the song? Perhaps you want to improvise over the song? Or your friend is playing a cool riff, and you want to join in. Ear training will help you do that too.
Lots of people say that you need to be talented to be able to play by ear. When you just need to practise, practise, practise! There is also another side to the story.
Are you perfect pitch or relative pitch? 
Being perfect pitch means you can identify a note by itself. Without having heard it against any other notes.
Relative pitch means you can identify what a note is against another note by hearing the intervals in between.
There is some controversy about whether you can train to be perfect pitch. What is definite is that you can definitely train to be relative pitch. It can be trained over time.
Here are some ways you can start to work towards improving your ears: 
Get practice at transcribing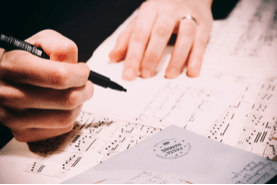 You improve your transcribing skills initially by listening to music and then working out what the notes are. The more you practise transcribing, the easier it will be to work out what's happening in the song.
Start off practising by just listening to simple melodies. Such as simple note melodies. That may be a nursery rhyme or national anthems. They are easy points to start because you've heard them lots of times before, and it makes them easier to work out. Christmas songs are easy too.
After you've figured out melodies, you can start to listen out for phrasing elements in the melodies.
To work on chords, start by figuring out whether the chords sound happy or sad.
When you are transcribing, use your guitar to figure out what each note is. If the music is too fast then put the music into VLC player or something similar to slow down the speed of the music. (There are speciality transcription programs, but VLC will work to start off with.
The more you practise, the better you will be able to figure out the different guitar parts and improve your overall hearing.
Listen to Music That You Like and Play Along With Your Guitar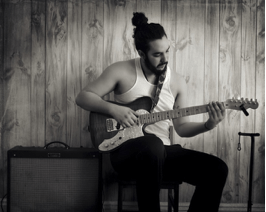 By listening to music you like, it will make ear training more fun. You may even find it relaxing. Use this as a way to improve your ears by figuring out what key the song is in and improvise on top of it.
Or try to figure out what the melody of the song to play along with it!
If you know how to figure out the chord progression, you can play along to the rhythm part of the song as well! There are some really common progressions that are used, so once you know how to identify them. You will be able to play along.
Try to create your own melodies 
Another way to practise your ear training is to create your own melodies to figure out on the guitar. You could sing them out loud or try to translate it directly from your brain onto the guitar.
This is really helpful to help you be able to improvise by thinking up something in your head, then playing it onto the guitar.
It will also improve your improvisation by playing more melodic sounding tunes that are "singable". Rather than what works on the guitar only.
Practise Singing Intervals 
The interval is the distance between two notes. You can practise just going between two notes and learning what different intervals sound like.

To practise this, you can use special apps that will test you. Or you could sing your own intervals, and then check if you got them right on the guitar.
You can try to relate the interval sounds to the beginning of famous songs to begin with.
Once you are comfortable with intervals and can work out how they "feel" against other notes. You will be able to incorporate them in your songwriting and improvisation to improve your melodies.
Here are a few ways for you to start to improve your ears. Ear training is a long-term game, but it's very rewarding. Keep the exercises fun and enjoyable so you don't dread doing it. Even do it with a friend and race each other on who can figure out parts fastest.
Doing a little consistently and often to help you make better progress.
About author:
Darryl Powis is a dedicated London guitar teacher and guitar school owner who has been building his own academy for guitar teaching