Are you ready to start learning guitar?
I want to tell you a story. The story of how I started playing guitar and what mistake I made in the beginning and why you should not relit it. This mistake was not so much about my technique, but more about my sight and convictions on the learning process, because of which I progressed way much slower, than I could. I want to share my story to keep the other guitarists from making the same mistake. The guitarists, who are, maybe in the same situation, as I was somewhen, while reading this.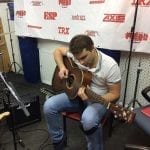 My mistake: I was preparing to star for too long
I liked music, since the childhood. I liked crooning my favorite songs, drawing logos for my imaginary rock band, hitting the open strings in my dad's guitar. I wanted to learn how to play guitar. But as well as the majority of people, who just wants something, I put my dream in a long box. I was a kid, and I thought, that I will be able to learn only as I grow up. Maybe, that moment, I didn't want it so much. As says Tony Robbin, a famous psychologist, a man usually tries to avoid doing something, until his need grows big enough. Thank God, that I was able to feel that strong and acute need to learn the guitar early enough, when a friend of mine, and my classmate Alexander Dmitriev played the guitar on a school party. That was a huge motivation for me! After that, I asked my dad to teach me. Now I understand, that I could have started earlier, if I took inspiration earlier.
If you want to start playing the guitar, don't wait for a perfect moment – create it yourself. Find a guy of your age, who plays a bit better than you now. It is a good motivation to start. If you don't have such a man around, go for guitar lessons and communicate with the other students, who play a little better. Maybe you will find motivation in something else. Find it. Maybe it is a gig. Maybe it is a documentary about a rock band. Look for it!
Think of the consequences. What will happen, if you don't start now? Will you regret about if a year or two later? Past can't be undone, but your future depends on your present actions. What will you do right now to start learning? Not tomorrow! Do something right now! Or you probably never will.
Author – Pavel Bocharov is professional musician and guitar instructor. If you want to start learning the guitar and always dreamed about it – visit Pavel's guitar lessons for beginners in Moscow, so that the process of learning become easy and fun for you!